Location:  Charlottesville, United States
Founded: 1905
About Curry School of Education
Located on the Campus of the University of Virginia, The Curry School of Education is a school founded by with two professorships.  Her establishment was after the gifts of $100,000 from Dr. Rockefeller and $50,000 from the general education fund.  The school acquires its name from Dr. Jabez Lamar Monroe Curry. This Georgian native has achieved many accomplishments. Apart from being a Minister, he is also a Harvard Law Graduate, a member of the Provisional Congress of the Confederate Army, a member of Congress and U.S Ambassador to Spain.  Many people in America still celebrate Dr. Curry for being one of the best authors ever. He was the college professor, an advocate for universal education as well as a promoter of education.
The school specializes on Teacher training Education programs among other programs.  The programs range from a five-year Teacher Training Education such as Bachelor of Arts, graduate programs such as degrees in Master of Education as well as Undergraduate programs such as Sports Medicine.
Curry School of Education has three areas of academic studies:
Human services
Here, students acquire knowledge and skills on professional careers in human development as well as clinical services.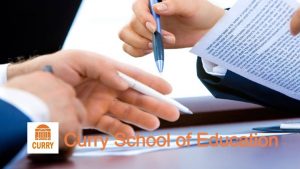 Curriculum, Instruction and Special Education
Here students acquire knowledge for teaching positions, teacher educator, researcher as well as kindergarten through grade 12.
Leadership, Foundation and Policy
Here students get knowledge on leadership roles in administration, educational policies as well as foundations of education to mention but a few.
Curry school of Education works jointly with Virginia College of Arts and Sciences to offer the five-year teacher education.  Students will graduate with a Bachelor's degree as well as Master in teaching degree of the Curry School.  All the students meeting all the requirements can teach on secondary or elementary level.
When you apply to join Curry School, in your first or second year you will participate in clinical experiences such as small-and-large-group instruction, observation as well as tutoring.  Various programs lead to teacher certification. The programs include secondary education, specialization in early childhood, developmental risk, special education and physical education.
Facilities and centers
Ninety percent of the facilities in Curry School are in Ruffiner Hall such as offices, classes as well as the education library. These are some of the centers found in Curry School:
Center of Study of Higher Education
Center of Advanced Study of Teaching and Learning
Center for Academic Diversity and Excellence
Center of VA writing projects
Teachers for new era
Young writers workshop
Youth-Nex
Virginia Youth Violence project
Faculties and programs offered by Curry School of Education
Did you know that Curry of is one of the leading Education in US?  According to U.S News &World Report, most programs are in top 20 best positions.  She offers 21 areas of study, six undergraduate majors, research labs, several research centers and a library. She also provides degree and non-degree options at regional centers.
Accreditation, International affiliations and student exchange options
The New England Commission of Higher Education accredits Curry College. In other words, this college meets as well as exceeds minimum standards of quality. This is the best college to enroll your children.  Curry also accepts International Studies   that allows students to engage in an International research projects.  During their studies abroad, students will visit different school, service centers, manufacturer of communication aids as well as hospitals.
This college participates actively in international academic exchange and cooperation. If you are looking for the best foreign student education then this is the best place to be.  The college enrolls a number of students from overseas.  As a foreign student in Curry, you will enjoy accommodation and access to various facilities. The local students are friendly and they freely interact with International students to teach and learn from them. This college works with different universities from across the world on an exchange program. She also sends her lecturers abroad to study and conduct research projects.
She also offers online courses, which encourages International students to consider studying in this college. Long distance learning is quite enjoyable and it is all affordable in this college.
Scholarships offered in Curry School of Education
It is worth mentioning that most students in this college do not pay the actual advertised price of a college.  They will enjoy different financial aids such as:
Grants
Loans
Mix of scholarships
Work-study
In most cases, the college offers work-study financial aid to international students.  Keep in mind that the college issues these aids based on your needs hence they are not the same.  Curry College makes efforts of enhancing International ties by admitting international students from across the world under the US Government Study Scholarship.  Keep in mind that apart from your circumstance, your merit plays a vital role in securing financial aid.
Ranking
The 2005 US News and World Report ranked a number of Curry's graduate programs in education as one of the top in the country. Special Education enjoys position 5, Secondary Education following closely at position 7 and Educational Policy ranked at position 18. The trend does not change as Curry still excels in academics, research projects as well as co-curriculum activities.  Did you know that she is among the four "distinctive university-based teacher education programs that excels in the field?"
Conclusion
Curry School of Education is a public school of education in the US and Located in Charlottesville in Virginia Campus.  Who wouldn't want to study in such a beautiful city that homes such a great college? The Campus is strategic and it is only a few miles away from Pen Park Shelter, Azalea Park Shelter and Stonefield Stadium. We all know that millions of tourists from across the world visit US just to see this city.  It is an added advantage for any student to enjoy visiting this site during your weekends and refresh your mind.
The college is well equipped with all the resources that students may require to excel in their academics. They include libraries, laboratories and research centers to mention but a few. The environment within the school is perfect and you will enjoy the view.